Why Multiply?
We know that when it comes to churches, there are many good ones out there for you to choose from. And if they preach and teach the Bible, then we celebrate them! At Multiply, we've been given the vision of simplicity. We desire to take the Church back to its roots in the book of Acts and focus on gathering in worship, growing in Christlikeness, giving generously of our treasure and time, and going and multiplying followers of Jesus. 4 basic things with a big impact!
Mission
Our mission is simple. We desire to be a church that multiplies the hope we have in Jesus throughout our community and world. As a ministry of Westerville Christian Church, we know all about building up the kingdom through church and community partnerships. We are FOR our community the same way God is FOR you!
What a church believes, matters
Values
We value God's Word and its application to every aspect of our lives.
This looks like prioritizing what God has to say about a matter above what the world has to say.
We are mission driven. We focus on the Great Commission not the calendar.
This looks like saying no to good things so we can say yes to the best thing.
We are authentic at all times.
This looks like our words and actions matching what we say we believe (God's Word).
We seek truth and love-based unity.
This looks like respect, honesty, accountability, encouragement, and support.
We provide practical, biblical teaching for all ages and backgrounds.
This looks like God's big truths presented in a manner all can understand.
We believe our families are our first mission field.
This looks like helping to equip parents to be the primary disciple-makers of their children.
We believe that healthy things grow.
This looks like honoring God with our bodies, minds, and spirits in order to create a strong and lasting church.
We teach the importance of giving of our time, treasure, and talents.
This looks like encouraging all followers of Jesus to sacrificially serve others locally and globally, give generously of their financial resources toward the mission and to those in need, and use their God-given gifts to help their community.
We believe that excellence honors God and inspires others.
This looks like using our time and resources well to create long-lasting, positive first impressions of God's Church.
We create Jesus-followers who make Jesus-followers, leaders who develop leaders, and churches that reproduce churches.
This looks like getting out of our comfort zones and prioritizing discipleship of those new to the Church.
Staff
Lead Pastor
Pastor Dan was born a Buckeye in northeastern Ohio and has been in full-time ministry for 20 years. His roles have included: youth, sports, discipleship, preaching, church planting, and serving as a lead pastor at several Restoration Movement churches in Ohio and Florida. Dan loves Jesus, his family, the local church, and is an avid (and long-suffering) Cleveland Sports fan.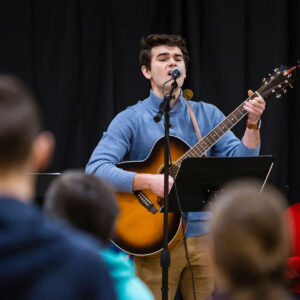 Worship Leader
Jesse Current is a recent graduate of Ohio Christian University where he led worship for their chapel services and played soccer. He is currently a Graduate Assistant Soccer Coach at the university. Jesse loves Jesus, athletics, music, and family.
Events
Join us for events and classes that will help you grow deeper in your faith and connect you with your new faith family.
Campus
We know the importance of gathering in person and we're currently searching for a permanent campus! If you know of a place in the Gahanna/New Albany, Ohio area that could be the perfect fit for our new and growing church, we'd love to hear from you!